How to use DOWN Dating App? If you missed the tutorial, here's a step-by-step for you.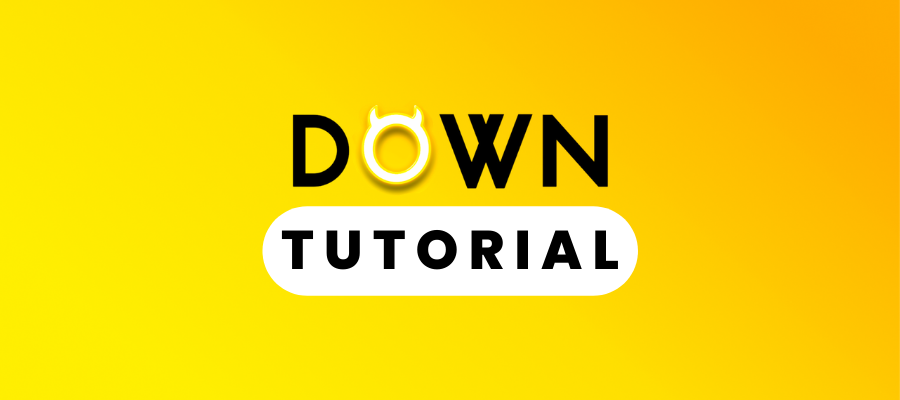 When you first download DOWN Dating App, you get a short tutorial before you can create a dating profile. Sometimes people can forget how to use the app even though they've seen it, so we're here to help you out.
A little background on DOWN…
DOWN encourages its users to be clear with their intentions, which is why unlike other dating apps that have you swipe left or right, on DOWN, you swipe up or down. Swiping up means you want to date that person, while swiping down means you want to get down (hence the name).
It's important to us that users are honest to one another, this way misunderstandings can be avoided.
Want to read more about DOWN's core values? Click here!
DOWN Dating App Instructions – How to use DOWN Dating App?
Like we mentioned before, on DOWN you swipe up or down; up to date, down to hookup. But there's more to that.
1. You can still swipe left
Yes, you can still swipe left, this is to skip the profile. Don't worry though, you can go back to the profile if you changed your mind.
2. You can send a Flirt
What is a Flirt? A Flirt is a message you can send to someone you're interested in before you match. You can choose between a series of pickup lines provided by the team and this usually increases the chances of that person matching with you!
Try sending a Flirt! Download DOWN dating app for IOS or Android now!
3. What is SnapMatch and how do I use it?
SnapMatch is a random matchmaker that will match you with anyone from all over the world. This way you can talk to people from other countries, make friends, or even maybe a LDR. To use it, all you need to do is tap the screen! The matchmaking genie will do all the work for you and bring you a match. Beware though, you only have less than a minute to like them!
4. How to see their other pictures?
It's fairly simple. Just tap on their profile and it should show you their next picture. Unless they don't have any more, of course. The last page you see should be their bio.
Time to create a killer dating profile. Download DOWN dating app for IOS or Android now!
5. How to report another user?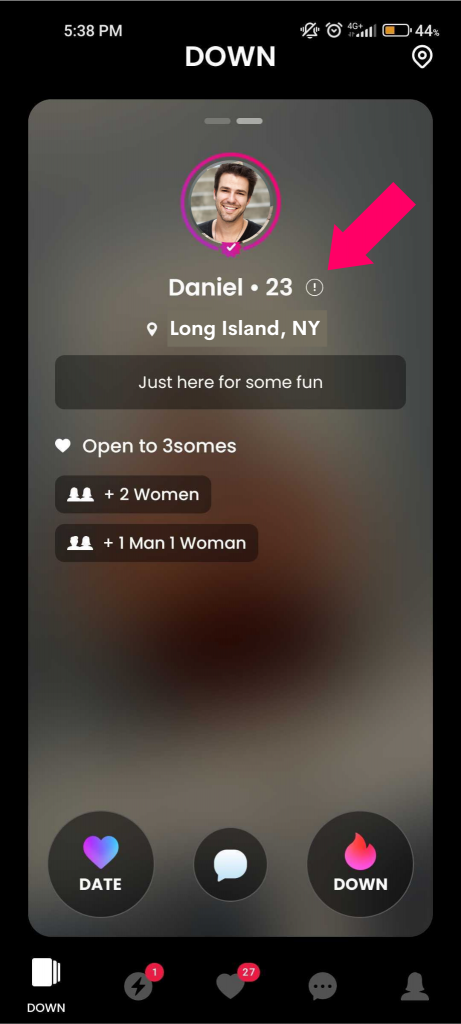 Oh no, a wild scammer appeared! What should you do?
If you tap through their profile and reached their bio page, you can see a small exclamation mark next to their name. Click on it and report them. Our 24/7 scammer hunter team will be right on it.
6. How do I get a match on DOWN Dating App?
If someone swipes up or down on you, then you're a match. That being said, there are ways where you can boost your profile so you have the best chance on getting a match.
We have a meter for profile completion, if you've reached 100% then your chances of getting a match is higher. And I think having more pictures of yourself really does show more of your personality!
Listen, if you feel more comfortable matching with someone who's verified, who you're sure is real, then it's the same with other people! Verify your profile and ensure other people that you are not a scammer. Our enhanced AI can detect even the slightest bit of fakeness.
Verify your profile. Download DOWN dating app for IOS or Android now!
It's true that we don't have that many profile prompts yet, but the ones that we do have, we hold very dear to our hearts. Plus, we want to create unique prompts that you can't experience in other dating apps, so please do have a little patience and faith in us, we're trying our best to give you the best experience.
The way to get a match is not by swiping up or down on all of the profiles you come across. Swipe on someone you're actually interested in, and try actually create a meaningful connection with them.
If you want to read more FAQ about DOWN, click here.
More like this: