Do you want to know Who is Kourtney Kardashian Dating? You are in the right post! After having kids and dating around, Kourtney Kardashian has finally found the love of her life, meet Travis Barker!
Who is Kourtney Kardashian dating?
Kourtney has had her fair share of men. From Scott Disick, Luka Sabbat, Younes Bendjima, and now Travis Barker. Barker is an American musician (drummer) from the infamous band, Blink-182. He is also a member of the rap rock group Transplants, and founded the rock bands +44 and Box Car Racer. He then also joined Antemasque and Goldfinger. Just like Kourtney, Barker has kids as well. He has three; Atiana De La Hoya, Alabama Luella Barker, and Landon Asher Barker.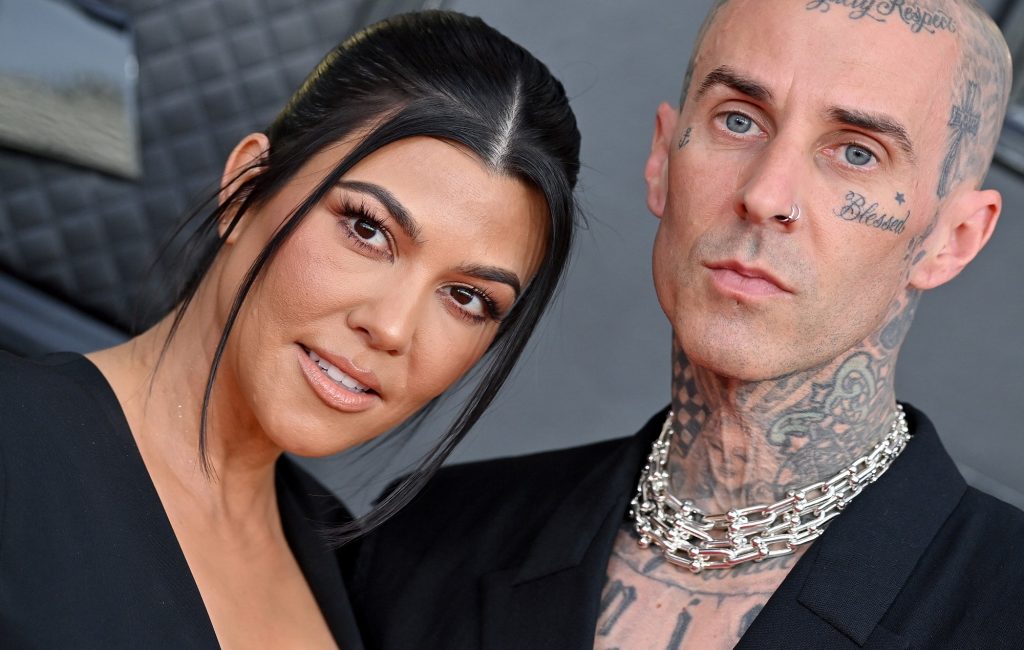 Who is Kourtney Kardashian dating – sorry, Marrying, in 2022?
The Kardashian and Barker started dating in January 2021 (not through a hookup app, by the way) – the couple have been friends for years, and finally when Instagram official on February 2021 after celebrating their first Valentine's Day together.
Things moved pretty quickly after that – Barker appeared in The Drew Barrymore Show and talked about his romance with Kourtney, and in April, the couple brought their kids together for a trip to Utah. "I'm spending time with a woman who's a great mom, who's a great friend and you don't have to worry about any of those things," he said. "It just comes natural — it's like a maturity thing." He said on the show. Having a love for tattoos, Barker made his love for Kourtney permanent by tattooing her name on his chest, her lips on his bicep, and the words 'I love you' with Kourtney's handwriting.
Here's where it gets really sweet. Barker had a plane crash in 2008, and ever since then, he hasn't taken a plane ride. The plane crash killed 4 people and left him with third degree burns on more than half of his body. All this time, Kourtney and Barker has traveled in the US without flying, but in August of 2021, Barker finally took his first plane ride again with Kourtney's support.
A few months after that, Kourtney and Barker got engaged. She posted it on her Instagram with the caption, "forever @travisbarker." He proposed with a ring he and jewelry designer Lorrain Schwartz created together.
Who is Kourtney Kardashian dating – Her Past
Just like any other woman, and as we've said, Kourtney has had her fair share of men. Let's talk about one of them, Scott Disick. Disick is an American media personality and socialite. He's made appearances in Keeping Up With The Kardashians (KUWTK) and the spinoffs due to the fact that he's close to the Kardashians and he is the father to his and Kourtney's children.
Disick claimed that he's lost Kourtney as his best friend ever since she started dating Barker. He's apparently still trying to figure out his place in the Kardashian family after his split from Kourtney, and how he feels with Kourtney's new romance. The reason why? Well Disick may have come to terms with Kourtney's new flame, but he still feels left out from the rest of the family, especially when – he claims, he has no other family to go to.
Nevertheless, Disick is happy that Kourtney has found someone, and that also finally gives him room to move on.
More like this;