Podcast launched by the #1 hookup app – DOWN Dating App.
Who is Billie Eilish dating? Meet the Mysterious Matthew Tyler Vorce!
The DOWN Team is excited to announce that Date If You Dare now has over 200k listens! 🚀
Hosted by Michael Waitze, Colin Hodge & Annie Chen, 'Date If You Dare' welcomes guests to share tips when dating, experiences about sex on the first date, threesome sex…and more crazy stories.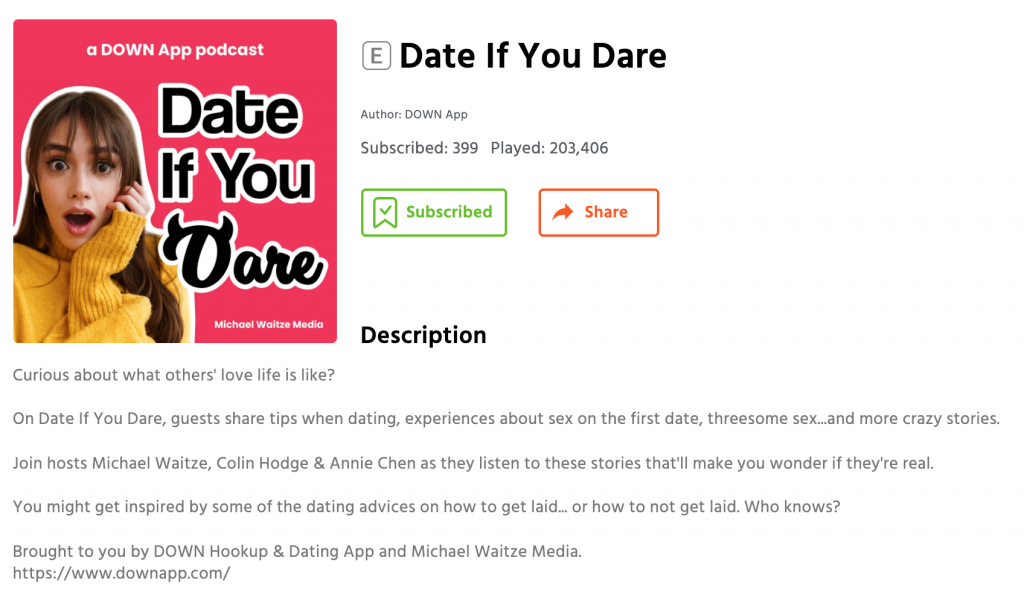 Two episodes are launched so far, with more to come.
1. The Unforgettable Threesome
Online dating? Simple. Just swipe, get a match, chat, and schedule a date with your dating app matches. What could go wrong…?
2. The Murderous First Date Sex
You're at a bar, met some nice ladies, took them back to your apartment.
Sounds like the perfect night. What could go wrong…?
Listen to these unbelievable dating stories if you haven't yet, and stay tuned for more!
You might get inspired by some of the dating advices on how to get laid… or how to not get laid. Who knows?
Listen to more! Date If You Dare Ep. 7 – The Uninvited Airbnb Host: Jamie Wang Exposed
About DOWN
DOWN is the most honest dating app – and the #1 hookup app to meet locals nearby. People get to choose whether they want a casual relationship or a more serious one. DOWN's goal is to make the world a more open-minded, sex-positive place where singles can express themselves freely and find what they really want.
Check out the history of the top dating app.
More like this;