These unbelievably" good hookup stories will make you want a local hookup… or not.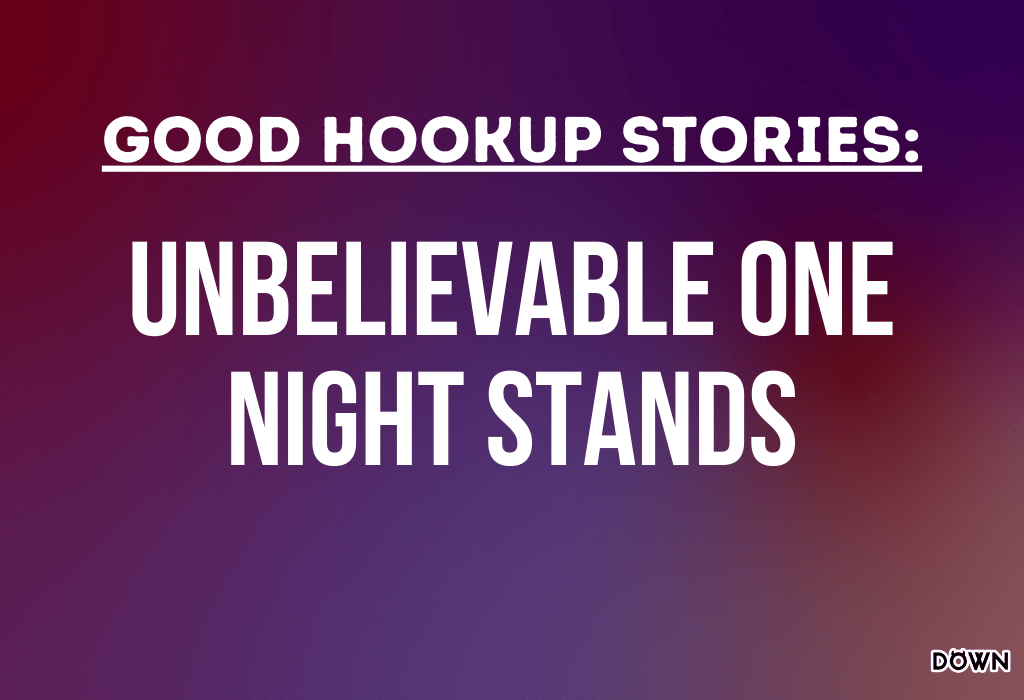 Ah, one night stands. All that drama sometimes makes people feel like they have a boring dating life. But before you jump right onto a hookup app or dating app, I'm going to stop you right there.
Take a look at some of the good hookup stories users from dating apps share. They might give you dating advices, inspirations on finding the perfect hookup…or let you know what to look out for.
Read below for some good hookup stories;
The 5 Best Dating Podcasts That'll Level Up Your Dating Game In 2022
Good Hookup Stories – The Creepy Stalker
"We met on a sex app and hit it off instantly. He would ask me really personal questions and I should've known he might be the creepy kind of guy. But I guess his good-looking face just sort of shut my brain off. We decided to meet at my house. BAD DECISION. We had a really good time, until he started stalking me.
He'd park in front of my house every night waiting for me to come home, leave flowers on my front porch, and text me a thousand times a day asking me when I'm going to invite him to my house again. As if he wasn't already there. Anyway, I had to ask a guy friend of mine to pretend to be my boyfriend for a whole month before he finally got the message and left me alone. Oh, the good news? Me and that friend ended up dating each other."
— Ashley, 25
Well, at least there's a happy ending.
Want to experience some good hookup stories? Download DOWN hookup app for IOS or DOWN Hookup App for Android now and impress everyone!
Good Hookup Stories – The Girl That Texts Her Mom Details
"Went to a friend's party and met a girl there. She was really shy, standing in the corner by herself. She seemed like a girl who would go to bed at 10pm, so I was curious why she'd come to this party. I don't really remember the conversation, but we started making out. I wanted to take her to one of the rooms upstairs, and was surprised when she said yes. After we were finished, she took out her phone, started texting.
I joked and asked her if she was texting her boyfriend. She said: 'No, I'm texting my mom. She wants to know every detail.' I thought she was just joking, but then she started saying things like: 'My mom wants to know if we're a couple now.' 'She wants to meet you, dinner at my house tomorrow?' 'My mom wants to know if you can bring your parents.'
It's a good thing I was wearing a condom. Or else I think her mom might say her daughter's having my baby and we should get married."
— R., 21
Yes, wear a condom, even it's just casual sex. It's for your own safety.
Good Hookup Stories – The Best Mistake
"I was at a coffee shop minding my own business when this cute guy came up to me. 'I don't want to sound creepy but I've seen you around school and I think you're really cute.' We chatted for 5 hours before heading to his place. Then we stayed in bed for a whole day. He was the perfect guy, sweet, polite, knows how to make a girl happy. We agree to see each other again. He asked if I enjoyed going to coffee shops. I said yes. He said 'There's an amazing one called xxx next to school, we should go together.' Wait…that coffee shop is next to another school, not mine.
It took me a moment to realize he'd mistaken me for another girl at his school. He apologized and said that though he was interested in the other girl at the beginning, he likes me for who I am and would like to know me better.
And what happened to the other girl? Oh, too late. This guy is mine.
Best hookup everrrrr.
— Mia, 19
Ah, here's the sweet hookup story I've been waiting for.
Want to experience some good hookup stories? Download DOWN hookup app for IOS or DOWN Hookup App for Android now and impress everyone!
Which one is your favorite hookup story? They may seem funny and unbelievable, but they can happen to anyone.
Here are things to keep in mind if you want to experience the good hookup stories;
It's okay to walk away from someone who makes you uncomfortable. Just because you had sex with them, doesn't mean you have to tolerate their weird behaviors.
Doesn't matter whether you're just having casual sex or not, remember to protect yourself. Meaning you or your partner should wear a condom. When used properly, condoms can protect you from STDs like gonorrhea, chlamydia, HPV, and HIV and AIDS.
Safety is everything. It's better to meet somewhere else than your house. Don't share any private information that may put you in danger. This includes your address, financial information, passports, nudes, or anything like that.
My final thoughts?
Fingers crossed that you meet amazing people, not the weird ones.
More like this;