These worst pick up lines shouldn't be used on dating apps. Find out which ones and don't make that mistake!
20 Fun Tinder Bio Examples You Should Use Today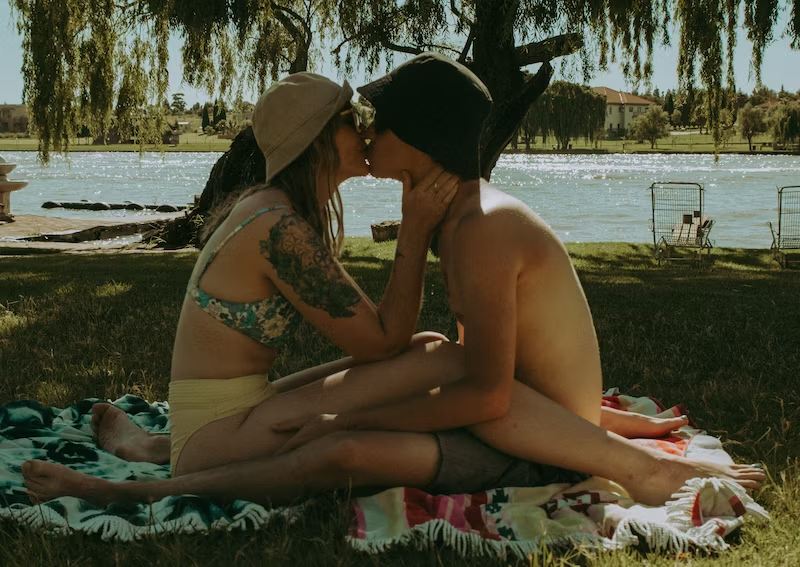 Want to hookup fast? Download DOWN hookup app for IOS or DOWN Hookup App for Android now and start flirting!
Dating is easy… sometimes. But seriously, nowadays, with Tinder alternatives like DOWN, you can meet dating app matches with a click of a button. Sometimes it's still hard to find that special someone, that one amazing person who takes your breath away, or the person you've imagined your 10 different lives with — that's why you need to stand out from other singles by working on developing your conversation game. Starting good conversations is crucial, and when you're a dating app, almost all the time, sending a pick up line works wonders. It all just depends on what kind of pick up line it is.
There are tons of different pick up lines. There are cute pick up lines, sweet pick up lines, hot pick up lines, dirty pick up lines, sexy pick up lines — you get the gist. Almost all the time though, what you want to avoid, is the bad ones. The bad pick up lines that make your skin crawl when you hear it, the worst ones of all and ones you definitely do not ever want to use. And we're gonna tell you which ones to avoid (see how nice we are?).
Whether you're new to the dating app scene or a seasoned swiper, these worst pick up lines will either have your matches laughing or cringing – and trust us, you want them to laugh, not cringe. In the wild world of online dating, good icebreakers will be your wingman, not just your friend. So, let's take a fun journey through these worst pick up lines and learn why they're better left unsaid. Or just take notes and throw it in the trash.
Check out these worst pick up lines we found that won't score you a date with your dating app matches:
Worst Pick up Lines
Are you from space? Because you're out of this world cute.
Do you know what I have in common with the Little Mermaid? We both want to be part of your world.
Roses are red, violets are blue, how did I get so lucky to match with you?
Do you believe in love at first sight—or should I walk by again?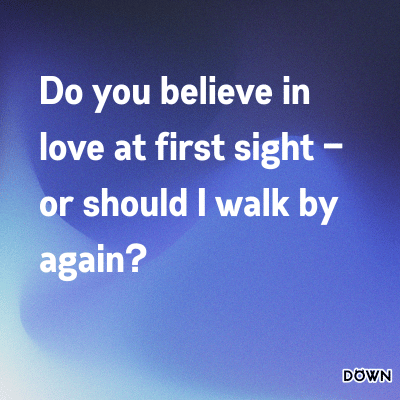 I thought happiness started with an "h," but I guess it actually starts with "u."
Did you fall in a pile of sugar? You're looking super sweet.
If you were a vegetable you'd be a cute-cumber.
Are you http? Because without you I'm just ://
Want a good hookup app? Download DOWN hookup app for IOS or DOWN Hookup App for Android …  now and impress everyone!
Do you see the pattern at this point? I don't know about you, but I'm reading through them and my face just scrunch up. Can't straighten it out even with an iron. Alright, here's some more for you guys. Ready? Swipe down 👇
Worst pick up lines, but funny
I lost my phone number. Can I have yours?
I must be a snowflake, because I've fallen for you.
I must be in a museum, because you truly are a work of art.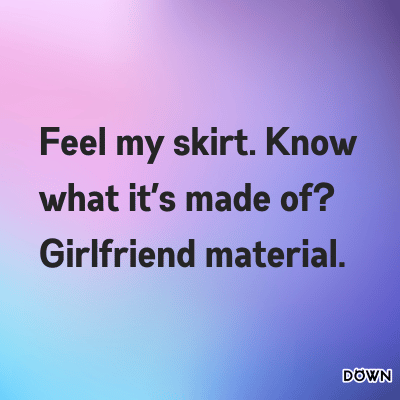 Do you play soccer? You look like a keeper.
Feel my skirt. Know what it's made of? Girlfriend material.
Know what's on the menu? Me-N-U.
Who is Selena Gomez dating? What's the Latest with the Pop Star?
Worst Pick Up Lines, but sweet
Are you wi-fi? Cause I'm totally feeling a connection.
I'm learning about important dates in history. Wanna be one of them?
Is there an airport nearby, or was that just my heart taking off?
Are you a bank loan? Cause you've got my interest.
Want a raisin? No? Well, how about a date?
You must be exhausted, because you've been running through my mind all day.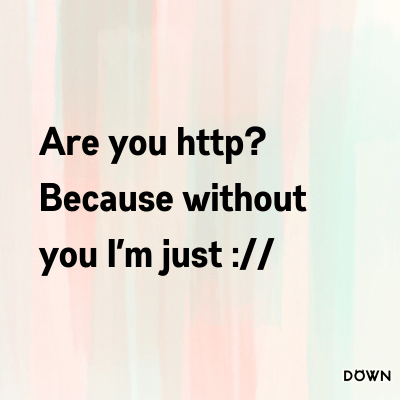 Okay, honestly they're not that bad — don't get me wrong, they're not great and there are definitely better ones out there, but it's not too terrible. All you need to do is drink a couple of shots of tequila, vodka, maybe 5 shots before you deliver some of the worst pick up lines ever, and you won't even remember you said them. There. Easy solution.
Dating app conversation starters aren't like regular conversations. Often times it can be awkward and frustrating, but that's what hookup dating sites are for after all – to get you comfortable meeting dating app matches and potentially finding your "match" in life. Or in bed.
25 Cringe Pick Up Lines That Gives You Goosebumps
That's why we recommend you give someone a chance if they've caught your eye – start by sparking up a conversation by sending them your worst pick up lines or funny pick up lines to test the waters, and let things progress from there so as to ensure you feel more confident hanging out with them when the time comes. In the meanwhile, enjoy the exciting convo you have with your dating app matches!
To sum it up, let's keep it real on dating apps! We've had a good laugh going through these 20 worst pick up lines, but now it's time to get serious. When it comes to making a connection, skip the cheesy one-liners and go for genuine, friendly conversation.
Authenticity, respect, and shared interests are the keys to success in the world of online dating. So, ditch the bad lines and just be yourself – and don't forget to be confident! That's the way to kickstart some meaningful chats and maybe even find that special someone in the wild world of digital dating.
Cheers to swiping right on authenticity! 📱❤️
More like this;