Here's everything you need to know about the #1 hookup dating app, DOWN.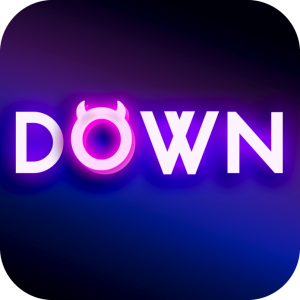 Looking for dating or hookup apps for women and men? Look no further.
DOWN is the most honest dating app, and the #1 hookup app to meet locals nearby. People get to choose whether they want a casual relationship or a more serious one. DOWN's goal is to make the world a more open-minded, sex-positive place where singles can express themselves freely and find what they really want.
DOWN App understands the importance of being real, that's why they put users in control. As the fastest growing hookup app, DOWN encourages users to date with full honesty.
Check out the Wikipedia page here for more details: DOWN Wiki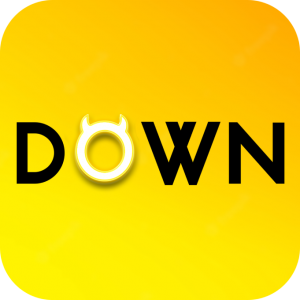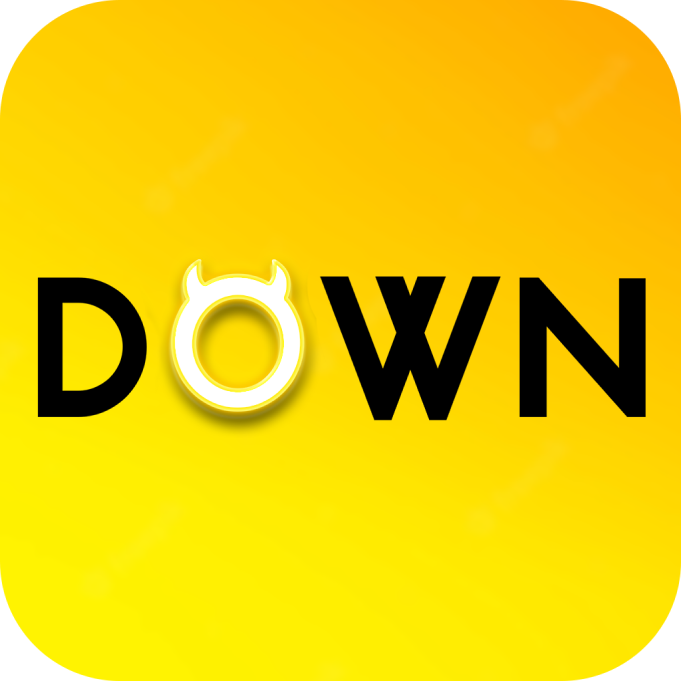 Some users may have been using the app for years, some may know DOWN as Bang with Friends. Bang with Friends was launched in January 2013, and rebranded to DOWN in late 2013. What started as a late-night side project quickly gained popularity, reaching 1 million users within ~3 months of launch.
When the mobile app was launched in May 2013, it immediately became more popular than famous dating apps like Tinder and POF (Plenty of Fish), ranking higher than them in the US App Store. (stats from data.ai and Appfigures)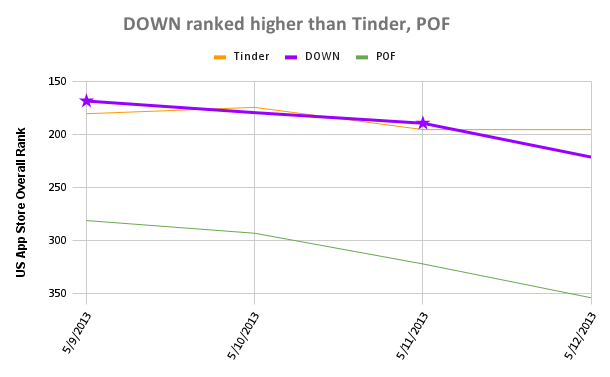 It not only found success in the US. DOWN (BWF back then) hit the top charts in multiple countries, gaining popularity all across the world.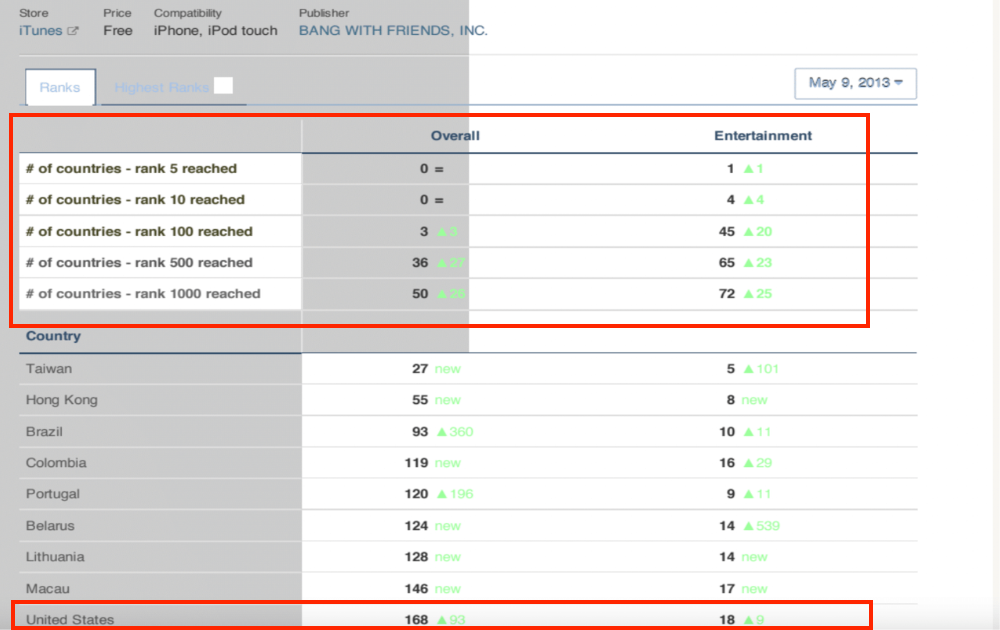 Read more about DOWN Dating App here; An Interview With The Developers.
DOWN's resurgence isn't just a COVID-effect. Since pre-COVID times in 2019, revenue has increased by over 250%. More importantly, the percentage of users who found matches grew over 500% from Q4 2019 vs. Q4 2022, and downloads more than doubled from 2019 to 2022.
In 2021, DOWN was listed as one of the top 20 dating apps in the US. (source)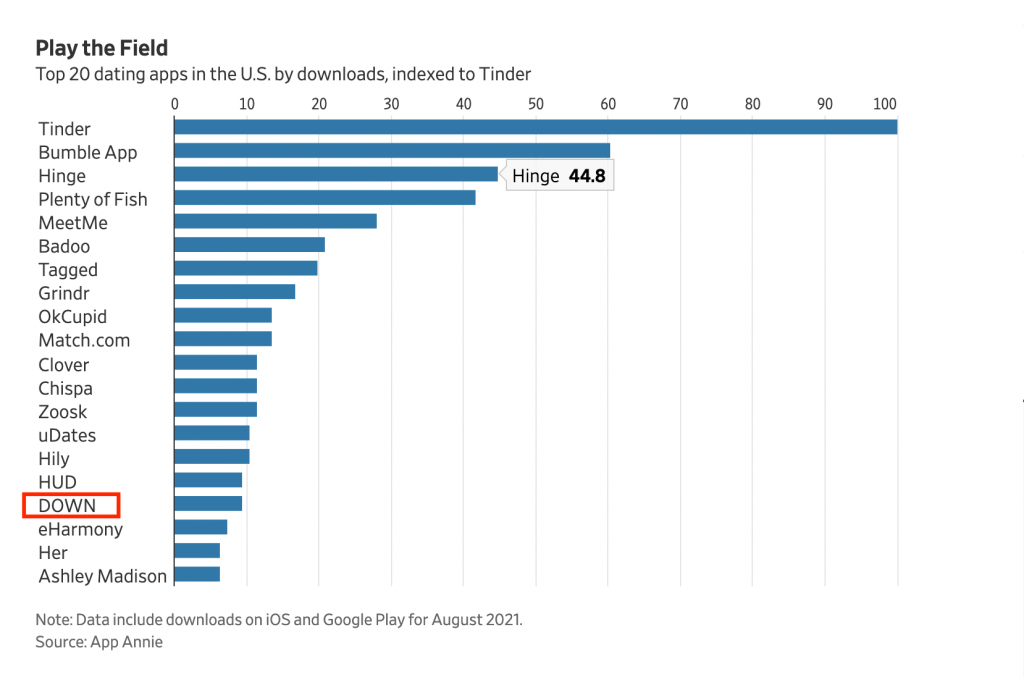 In 2023, DOWN is celebrating their 10 year anniversary as the go-to choice for hookups, and with over 13 million users worldwide, they are growing stronger than ever.
The app is free on both Google Play and App Store.
Some FAQs about DOWN
1. How to use DOWN Dating App?
Unlike other dating apps that swipe left and right, DOWN gives you the option to swipe up (DATE) or down (HOOKUP). Swiping up on a profile means that you're interested in dates or something more serious while swiping down means you're looking to have some casual fun. Alternatively, you can press the 'DATE' or 'HOOKUP' buttons as well.
This unique swiping feature allows DOWN to act as a wingman for all types of singles. Doesn't matter what users are looking for: casual hookups, first dates, long term relationships…or anything in between, users can choose which direction they want to go in just by swiping.
If you don't want to swipe up or down, you can also still swipe left to skip the profile, or you can use the Flirt button in between the 'DATE' and 'HOOKUP' buttons to send someone a message. You can choose between a series of pickup lines provided by the team or personalize it yourself — this usually increases the chances of that person matching with you!
2. What are DOWN's Features?
DOWN is constantly launching new features for their 13+ million users to express themselves and fulfill their desires:
3some: This feature was created for users who are open to exploring threesomes or are already actively seeking them. Whether you're looking for 2 men, 2 women, or 1 man and 1 woman, or even if you have a partner and want to look for a third, the choices are all there for you.

Ever since the launch of the 3some feature, more and more users express their interest in finding a 3some:

22.5% of users are looking for 2 others to join them in a 3some
5.11% of users are looking for a 3some with their partner
Psst! Did you know the top 2 US cities that are looking for threesomes in our app are Los Angeles and Houston? 👀
SnapMatch: DOWN wanted users to have some instant fun using Snap Match, so it was designed with fun games built-in. Tap spin to start, and users will get a random match who is online and fits their preferences. They can chat instantly with people from around the world.

Since this feature was released, around 96% of DOWN users have adopted it into their profiles, sharing something unique to make themselves stand out.

Highlights: DOWN helps users describe their best trait using 'Highlight Stickers'. From 'Kinky' to 'Dimples', DOWN provides over 30 different stickers for users to add on their profiles.
Icebreakers: DOWN has two types of ways you can break the ice with your match, that is through "Would You Rather" or "Photo Challenge". "Would You Rather" lets users to ask each other a question and answer, while "Photo Challenge" lets users trade photos based on the prompt they chose (i.e. Show the third picture in your album).
More like this;